Ref:
Date taken
Location:
Ref:
Date taken
Location:
BERLIN
15/08/10
As part of my investigation about the site I was amazed to learn that at the end of the 19th century in Germany 1 in 3 people died of tuberculosis. In order to arrest this decline a lung sanatorium was established in the forest outside Beelitz over an area of some 200 hectares. The buildings initially had 600 beds but this was increased to 1200 beds to cope with the demand. The complex grew into a small self-sufficient town with strict division of the patient sexes with housing added by 1908 for doctors and supporting staff. Before too long the complex had its own restaurant, post-office, gardens, stables, workshops and bakery.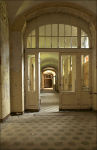 At the end of the second world war the clinic complex was used by the Soviet Red Army. The garrison withdrew in 1994, after which the site was listed as an historical monument and is now awaiting development.
On my walk through the site I could not help but imagine the complex during its use to combat tuberculosis; it was particularly memorable walking through the children's wards. There is evidence of the occupation of the Russian Army, which was not that long ago. Overall, a fascinating and worthy experience.
During my visit to Berlin we visited parts of the city where the Berlin wall used to exist and I learned a great deal about the history of the city during and after the war.